Software to analyse a badminton match
What software is available to analyse a badminton match?
Here are 2 systems that are currently being used
Analysispro
I met with a coach who asked about using software to analyse matches.  I only know of 2 digital systems, although I guess there are more out there.
Some UK organisations (not just in Badminton) use Analysispro (NacSport) software, have you any experience with this?
I'd be happy to post a guest article by you that could help others understand how you use the software and the useable outputs that you get.
Click on this image, find out more and also watch their comprehensive training webinars on how to build and use this game analysis programme.
Clutch
The other system that I've been keeping an eye on is Clutch.
Not yet released, Clutch uses AI to turn your device into your own virtual badminton coach.  It will record your match and get real-time performance feedback and automated video highlights.
This could be a game-changing piece of software and could revolutionise badminton coaching
Did you know that it's already supplying some game stats to the BWF in their live game commentaries?
Click on this image and sign up so that you get early notification of its release.
Its CEO & Co-Founder is Kari Gunnarsson an Olypian Badminton player from Iceland.
– – – – – – – – – – – – – – – –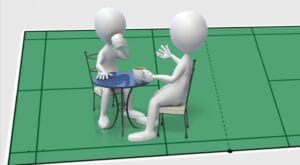 As always, I'm very grateful if you have read this far 🙂
I'd love to hear your views about which badminton backhand defensive footwork you coach.  What are the positive benefits of each technique?
Why not send me an email  contact@badmintonandy.com
This is part of a series of conversation starters. 
Although not in detail, the posts are written to get you thinking and talking with others.