How do you check for understanding & learning
Is your 'go-to' method to ask questions?
Or, do you prefer other more effective methods
Asking a question to establish learning & understanding in sports is fraught with dangers
A conversation from years ago
During a recent call with a friend, they reminded me of a conversation we had many years ago.  It was during a badminton camp, in the late evening, probably fuelled by tiredness, heat and a beer.
It concerned how coaches generally check for understanding and learning, especially in practice.  How they went about it, was it really effective and what did it really achieve?
We remembered that we had a good debate about why we asked players questions.  Specifically, did the questions actually identify if learning and change had taken place.
Questions such as 
"do you understand?", 
"what did you see?"
"tell me what is important to remember"
Do they really establish if learning and understanding are developed/present?
Or are they just a coaching habit, unfortunately, one had been ingrained in early coach education courses.
How do you establish that your players understand?

What methods do you use?

What type of 'understanding' do you check for?
The longer post
I've written more in this accompanying post, click here or the image to go straight to it.
It will give you plenty more to consider and I've tried to answer some of the questions posed below.
The rest of this post outlines the questions we discussed on that hot Spanish evening.
Although I'm not sure we reached many conclusions or completely agreed with each other. That came a few years later through the benefits of practical experiences and open reflection.
Talk with a friend and discuss these questions or consider how and when you check for understanding
– – – – – – – – – – – – –
Our discussion points – what do you think 🤔
Asking questions to check for learning especially in sports is not the most effective method.  Especially if you are looking for a 'check/tick list' of replies that you believe then confirm understanding.
The replies we get in most of the quick Q&A interactions rarely give any insight into what's learnt or appears in competition.  Maybe players tell you what they think you want to hear?
Observations are one of the best methods for checking for understanding.  To see it in practice and competition beats any questions.
The unknown 'seemingly causal' observations often provide the best information.
Conversations are not the same as asking questions.  Done well they provide access to much deeper player thoughts, needs, wants and joyful feelings.
Coach education encourages (incorrectly) coaches to ask lots of questions to check for understanding.  Unfortunately, it's often the main (or only) method spoken about.
I suggested to my friend that coaches (in general) and coach education could be developing strategies that are at best ineffective and at worse causing players to focus and pay attention to aspects that may not help their sports performance.
Their reply
"I would say it's impossible sometimes if you try the textbook questioning method, you need to 'keep it real, and have genuine conversations with players. 
Often these happen at tournaments, when travelling, after training etc.  During a training session, true reflection is challenging depending on the type of session.  
However, it's my observations rather than questions that provide the best information to check for learning."
Want to read more?
If you want to know more about our conversation, click here .
There is plenty more to consider and I've tried to answer some of the questions above.
Knowing what the coach knows (or the manual) does not guarantee an increase in performance
– – – – – – – – – – – – –
Thank you 🙂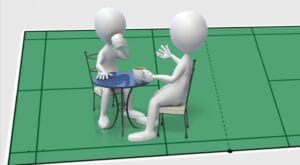 As always, I'm very grateful if you have read this far 🙂
All these thoughts are based on my own experiences.  I've reflected on examples from my own coaching, some experiments, some not, things that worked and plenty that hasn't.
I'm not a sports scientist or researcher, I'm just a coach.  There is a high probability that I'll get my terms mixed up, or use incorrect definitions.
If you have an opinion on this post, why not send me an email  contact@badmintonandy.com
This is part of a series of conversation starters. 
Although not in detail, the posts are written to get you thinking and talking with others.