Practice or Play Badminton
Do you prefer to practice or play when given a choice?
Coaches – what do your players prefer?
A coach once told me that when they were a player that they loved to play.  Yes practice was also great, 'but why practice when you could play', they said
Then they reflected a little and said – "surely the reason we practice IS to play"
However, they were concerned that too many players preferred to practice

The conversation continued and they outlined these thoughts and worries
Their opinion
Too many 15 – 19 yr old players don't seem motivated to want to play competitive matches in practice
Maybe the style of coaching over the last 15 yrs has moved towards coach-led practice with less competitive practice matches
Could it be that it's difficult to fail (lose) in practice
Has Practice become a 'mastery of technique' rather than learning how to win/compete
The desire to want to outwit players (especially practice partners) has lessened.  Is it acceptable to want to beat everyone you train with 🙂
– – – – – – – – – – – – – – – –
– – – – – – – – – – – – – – – –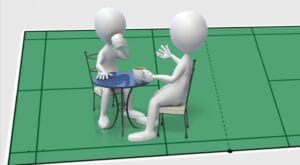 As always, I'm very grateful if you have read this far 🙂
Do you recognise any of these thoughts?  They certainly got me thinking.
Why not send me an email  contact@badmintonandy.com
This is part of a series of conversation starters. 
Although not in detail, the posts are written to get you thinking and talking with others.