How to train like Viktor Axelsen
Train like Viktor Axelsen – what can you do
Viktor Axelsen's training environment in Dubai is certainly helping him to produce some fantastic results.
There's been lots of discussion on social media about Viktor's set up maybe you've read some of it.  He's invited a varied set of individual players to Dubai, mainly singles specialists but also a few doubles players.
At the start of each 'camp', Viktor will often post group pictures and some videos, often through his Facebook account.
How many of these players do you know?
Of course, we don't know all the facts but we can still think about how we could take the best ideas.
How many of these points could you integrate into your training
The camp mentality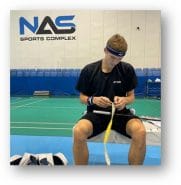 It's important to realise that the players in Dubai are not there as part of a governing body project. They come from different countries and have different training systems.
You could do the same. Invite players from other clubs, squads, and regions. Ensure they know what is expected and the structure of the session.
Practice players

Viktor has different players for each camp but also a few regular team-mates.  All of them are young, motivated and generally climbing the WR.
Ok, you may have difficulty asking WR players but you can ask the best players in your area to come and practice.  Invite those who are motivated to train and play to the maximum, share information and be willing to socialise (or at least be polite)
Coaches

Viktor has his coach in Dubai and in some camp pictures, it looks as if some players bring a coach.  I'm suggesting that players don't always need a coach on hand, they certainly don't need one to lead every practice and practice match.
You could get together without your coaches, and work out what you want to practice.  Create sessions that help you.  Become better at assessing what works and if everything you do actually helps in your match play.
Training programme
Viktor has his own coach but I'm guessing that the planning and approach to the sessions is discussed with everyone.  Viktor and his coach may have the final say but wouldn't it be great to find out how training was planned.
How often do you share your thoughts with your coach or your practice partners?  Create a discussion about the work you do.  You may be surprised at the ideas that everyone can offer.
However if you think you know how to train like Viktor Axelsen then I'm sure you know how hard it will be.  Physically hard yes, but maybe psychologically even harder
Culture

Wouldn't be great to have an insight into the training in Dubai, something like the Carolina Marin documentary on Amazon.  Maybe one day Viktor will do something similar or write a book.
Have you considered what culture you have in your training group?  I recommend you do this both as a player and a coach.  Consider what you've experienced when you have been in other training groups.  The culture can make a huge difference in many aspects: enjoyment, development, goals, income, engagement & retention, etc
– – – – – – – – – – – – – – – –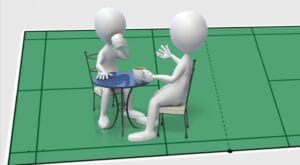 As always, I'm very grateful if you have read this far 🙂
Which of these ideas do you think you could use in your session practice?
Why not send me an email  contact@badmintonandy.com
This is part of a series of conversation starters. 
Although not in detail, the posts are written to get you thinking and talking with others.