Badminton experience you need & some you dont
Experiences count, you must agree with that?
But what are the best types of experiences
And which ones should you avoid !
Your development in part is influenced by your experiences
I asked a group of my friends what Badminton experiences would really help a player or coach develop.
These are our thoughts and recommendations.  Do you think you could add to the list?
We divided them into 3 categories
I hope that you will agree with our ideas

Let me know what you think
I'll leave you to expand on these suggestions. I recommend that you talk with your friends and see how possible it is to incorporate these into your badminton practice and badminton life.
These could apply to players and coaches
In order to benefit from some great badminton experiences you may have to change what you are currently doing, or start to dream much bigger than you currently do.
Don't be held make by your current thinking
How to use these suggestions
Please take a view on each below.  My hope is that they get you thinking.  Talk with 2 other people and see if they agree with you.
They are designed to either get your agreement or maybe create intrigue, even confusion.  Don't always accept what you are presented with and remember you may be in control of your experiences more than you realise.
I've spoken with some of my coaching friends and we have already found that in some contexts we are happy with the statements, but in others, we aren't sure if they should come under a different heading.
Within what contexts would you agree or disagree?
– – – – – – – – – – –
Experiences that are essential for development 🙂
Doing lots of hitting, both deliberate and unplanned practice (ie play games)
Practicing with better people of varying standards at your level and above
Travel to other environments and practice sessions with an inquisitive mind, look for differences and make a judgement
Experience tactics in game situations, try them as much as you talk about them!
Have critical conversations with others (coaches/players/experts), then sometime later reflect and reconsider about the content and outcome
– – – – – – – – – – –
I'm undecided about these
Watching videos to gain knowledge rather than for interest, there is a difference
Using shadow practice to establish then develop technique
Changing coaches on a regular basis or having multiple coaches (more than 2)
Which is best, and which to avoid? : Running, Skipping, Cycling
Multi shuttle – unless there is a specific aim, that aim has been considered and you apply your session towards that aim.
– – – – – – – – – – –
Experiences to avoid or reduce
Always doing the same repetitious practice because it's your 'go-to 'practice
Listening to coaches speak rather than experiencing their practices
Practices that make you chase shuttles rather than trying to outwit your opponent (less feeder more opponent)
Believing that you need to be bored or struggle emotionally in practice
Focusing on your body parts, especially those that move in the middle of powerful movements
Can you add more to any of these 3 categories?
– – – – – – – – – – –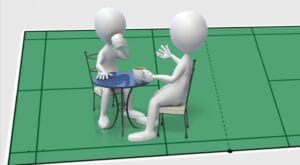 As always, I'm very grateful if you have read this far 🙂
I'd like to hear what Badminton experience you've gained that helped or hindered your development
Do you agree with the suggestions above?
Why not send me an email  contact@badmintonandy.com
This is part of a series of conversation starters. 
Although not in detail, the posts are written to get you thinking and talking with others.