Badminton Coaching Conferences
Coaching conferences – why they are a great idea
I'm going to the Badminton Ireland Coaches & members Conference 2022.
It's something I've been to before and always enjoyed.  I recommend that if you are interested in hearing what other coaches have to say then you should go to a conference or workshop.  Why not go to Dublin this summer!
It will improve your badminton coaching
One of the best reasons for going to this conference is to meet people, you'll not find a friendlier group!  Plus the conference has something for everyone.  I especially like the mix of on and off-court.  It's open to all members not just coaches and often there is a really good mix of older players, coaches, parents, and badminton addicts 🙂
There is always a chance to try out ideas as well as watch the full-time professional players in action.  One hidden highlight is experiencing the Teicnic Badminton programme.
Reason people attend
To meet fellow coaches, friends and NGB Staff
To increase their knowledge and to gain CPD points
To take part in interactive sessions with National Team players
Quick thoughts about conferences
Why don't more governing bodies hold conferences and workshops?
They don't just have to be for coaches, the Irish one is attended by lots of enthusiastic club players of all standards
When else would you get an opportunity to ask a national coach the reasons why they did something
Learning alone will always lose to learning with others.  Plus it fun to hear other views 🙂
– – – – – – – – – – – – – – – –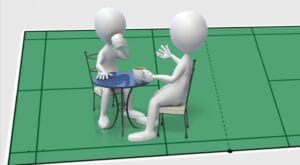 As always, I'm very grateful if you have read this far 🙂
I'd love to hear your views about why you would or would not attend at Badminton Coaches Conference
Why not send me an email  contact@badmintonandy.com