Hello and Welcome to my first post
Welcome
Hello, my name is Andy, welcome to my first ever badminton blog on Badmintonandy.com
It's a scary thought that I am about to share my ideas and suggestions with you.  I hope that you will enjoy reading all the information, ideas and suggestions.
My aim is to share as much as I can with you from the notes I have gathered since I started coaching.
I've heard and seen plenty of interesting ideas from working with many great coaches and friends, all who have inspired me to develop. 
It's been an idea in my head for many years and now that I am over 50, I thought that I better start!
Welcome to Badmintonandy.com 🙂
– – – – – – – – – – – – – – – – – –
– – – – – – – – – – – – – – – –
I want to share my thoughts
All I want in return is your feedback.  Please let me know what you think about the site.
I need your thoughts to help me to improve. Whether it is good, bad or inspirational, is up to you to let me know!
If you want to send me a note and ask for something specific or further explanation then I am willing to give it a go.  I certainly can't answer all your questions but I will try and also ask all those influential people I've met along my journey.
I hope to address all sorts of topics related to badminton, general coaching and coach development.
Click here to read what my friends say about me 🙂
– – – – – – – – – – – – – – – –
This site isn't just for coaches
In fact, I want to share ideas for players of all ages, parents of players and coaches.
I have a passion for helping new coaches and those thinking about coaching.
Are you currently coaching and feeling worn out or looking for new ideas?
Are you searching for new ways to coach the techniques you believe are essential for developing players?
Are you like me, sometimes having doubts about what to coach, or wondering what the 'best' advice is for a particular situation.  These two thoughts have constantly been in my head since I first stepped on court.
If you are an experienced coach or coach educator I would welcome your input.  Finding coaches with opinions and the motivation to share them is difficult.  If you would like to prompt a discussion or feel that you could send me an article, please do that. Badmintonandy.com will always be open to new ideas to help you.
– – – – – – – – – – – – – – – –
It's also for Parents
If you are a parent of a child and are wondering how you can help them develop, then my aim is to give you information that works.
If you attend your child's coaching sessions do you know if the work they are given is effective, and how to measure it?
Sitting behind the court on the balcony you will observe so much.  I think it is important that you can increase your knowledge and interest so that your enjoyment and engagement also increases.  Moreover, you will have something to talk about with your son or daughter afterwards.
– – – – – – – – – – – – – – – –
Are you a Player?
Sections of the site are aimed specifically at you
I hope you will be challenged and required to think about how you play, train and prepare.  Being on the court in competition can be both exhilarating and challenging.  I would like to try and give you ideas that will open up your mind to a world of possibilities.
If you dig deep into the pages here you will find information for coaches, parents and players.  It is an opportunity to read about the aspects that they think about.
Do you have a question that you need an answer to?
Something that you have seen other players do and wonder why or how.
Is your training producing the results that you desire?
Use this site and call on the people who read it to contribute to your development. Contact me and start a discussion. 
– – – – – – – – – – – – – – – –
My Short Story
I am a father to two badminton playing sons and have coached a range of players from ages 7 – 17 for over 25 years.
My inspiration to learn more about "how to …" came in my mid 20's after I met my coaching mentor.
Meeting Roger Mills changed my thoughts and work on the court so dramatically that for the next 5 years I said very little, watched and made lots of notes. 🙂
I questioned almost everything I had been taught and shown
It was both a frightening and exciting time!
He asked me if the things I did were effective and produced changes that could be seen in game conditions.  Or, were they "just keeping players busy".
This lead me to question how and what I had been coached and also the formal coach education I had attended.
If you want to hear about what subjects are in my thoughts right now, read about my inspirations and why I need your help click here
– – – – – – – – – – – – – – – –
My promise
If you want to know more or are feeling stuck then send me a question.
I would love to go on a journey with you and help increase your enjoyment from whatever aspect of this great sport excites you.
Please look around the site and explore all the things it has to offer.
My aim is to make Badmintonandy.com one of your favourite websites.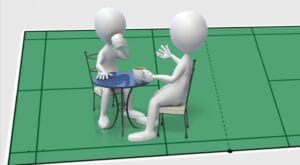 – – – – – – – – – – – – – – – –
Have you signed up to the newsletter? 
Everyone who does will receive a free  Conditioned Games download with lots of practical ideas to try out.
Thanks for visiting
Andy (Badmintonandy)
;