Why do you need practice partners & how can we work with them
Peter Briggs
Practice partners are crucial for improving performance
Firstly there's the competitive nature of a practice partner, especially if they are also training as an athlete you have the opportunity to push each other to greater heights.
Even if they are a retired player, pride is still a huge factor for them and they will no doubt continually push you until you exceed their abilities.
Secondly, I'm sure you've all heard the phrase we are what we practice.  Drills are great but how do we convert what we learn in drills into matches?
We need sparring partners to test out the things we are learning in training before we take them to the big stage.  Just think if you've been working on a set play or a trick shot are you really likely to execute it for the first time in a serious match against an unknown opponent?  Or are nerves going to get the better of you?
Practicing against your training partners will make these transitions second nature.
---
Practice partners are the foundation to success!
With a good training environment and group, you can achieve goals so much faster than alone.
You can push each other and also remind each other of giving everything if someone is having a bad day.  If you trust your training partners and they trust you, it's beneficial for everyone and it creates the best possible environment for development.  That is the key for getting better every day 🙂
---
Ben Caldwell
Train as a Team, compete as an individual
Practice partners are of course the key to success, respect them, appreciate them, help them.
If you want to read more about how to maintain a cohesive productive training group then click this image.
It can be really difficult to maintain a productive training environment with a group of players who play singles (especially) and who regularly compete against one another on the circuit. This is often a big challenge if, for example, you have the number 1 and 2 in a country in the same group.
The information will give you some suggestions about how to try and manage this type of situation.  Possibly using the competitive individual spirit to push the group as a whole to greater heights and belief.
---
Tracey Hallam
Ensure everyone works hard
I had the players within the women's singles squad to train with and we had to work together.  The expectation was to give everything you have to get the best training.
When I was working to a set amount of time, then I would time myself and if one of the players took their time at the end of a rally to get a new shuttle, I would stop my watch to ensure I got my allocated.  This was true for all the players, it was important that we worked hard during our sessions and pushed others during theirs.
Sometimes if one player wasn't enough then for more pressure we would do 2v1 exercises.  If some players were good in other areas then we tried to see it as a challenge to keep up with the player with the advantage and match them, or at least that was my thinking.
---
Jurgen Van Leeuwen
It always a team effort
Don't be fooled by the huge amount of people to appear to be training by themselves
Carolina Marin has a whole bunch of male players hitting with her. L CW had 6 players a day hitting with him 4 v 1,  2 v 1,  etc.
It's no surprise Danish Men's singles is thriving at the moment .... they have a wide range of players of different ages training with one another.  They are always inviting young and upcoming players into the sessions.  The mechanics and dynamics of having players together on a daily basis is extremely valuable.
Indonesian new doubles sensation Carnando and Marthin have been training support partners for the top 3 Indonesian pairs for 18 months.  The progress they have made is mesmerising.
---
You maximise your ability you need great sparring
Practice/sparring partners are so important if you want to take your game to the next level.
Individual training, while it's so important and helps a lot, there will always be a limitation on how good you can be if you don't have high-quality sparring practice.
---
The ideal scenario is to have a player that is better and one that is slightly lower in standard
I have experienced times where I haven't had practice partners and times where I have.
As a singles player, I think you need practice partners for practice matches.  But in terms of training, I am someone who achieved their best results without having daily regular practice partners.
It is always an assumption that you need a practice partner that is better than you but the ideal scenario is to have a player that is better and one that is slightly lower in standard as what does not work against the better player you can practice against the lower standard player as you have more decision making time within the rally.
By just playing the better player you can sometimes just end up becoming faster at taking the shuttle late which may not improve your level.
My coach is able to play and keep the intensity at a significantly high level.  Probably higher than many singles players competing on the World Stage at the moment.  Practice partners can sometimes help in terms of load (2v1 3v1) but the feeding and intensity needs to be on par with what you need as a singles player and also on par with what you're delivering to them.  As the more people in the session, the higher percentage of chance that someone will affect the quality of the session.  Positively or negatively.
A key to my success is that I always practice with intensity and on a 'practice to perform' thought process 'rather than practice to practice'.  This is why I think most of the best players in the world only have a small team around them.
---
Richard Vaughan
Be careful and strategic when selecting practice partners 
•  You don't need them all the time
•  They are useful for practicing match type environment components eg matchplay, tactical play and certain technical development
•  With good practice partners you can practice a wider array of components from skills, tactics and physical
However, if the practice partner is not of a high enough standard it can also be detrimental and narrow the array and level of practice opportunities
---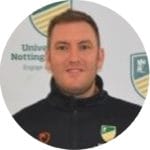 Martyn Lewis
You can't play badminton on your own against yourself!
Drills can be set up to improve fitness, skills, tactics on an individual basis but to put them into practice you need practice partners.  Ideally a variety of them!!
You need to know if shots work, certain plays work, positions in doubles work, your footwork works, your best shot individually works against players!!   All these things can be found out by playing/training with practice partners (singles and doubles!).  No amount of individual work with a coach can replace testing yourself in practice against other players.
You need partners to train and play training matches with.  However, it's these matches that sometimes are as competitive as any competition, if you want to be!
---
Everyone needs to contribute, even if they are your competition.
Individual practice is mainly shown on social media because it's easier to get 2 people together to film!  Plus no one wants to give their secrets away ????
Being doubles players at least 50% of our training is done with 4 players on a court.  We are aware that it is of course harder than singles to get 4 players all of a similar level.
It's important for every player on the court to know that the sole purpose of the practice is for them all to improve and hence they should try their best in the practice to achieve this.
There should be no, 'you're the competition so I'm going to try less when feeding you', although this does happen!  And really there is no such thing as a 'feeder' as you can always be working on improving an element of your game no matter what the practice is.
Every 'practice partner' will bring a slightly different style and pose a different challenge to you. This is similar to an opponent in a match.  In the routines, we do we always try to replicate match scenarios and often use 'feeders' to create a situation where it is perhaps more difficult than what it would be in a game.  When you get into a game you should therefore feel slightly more comfortable with a little more time to play shots and make decisions.
---
Jonty Russ
Helping each other is important for multiple reasons, no one is 'top dog' forever
Well firstly you need a 'practice partner' in order to play badminton, I mean without it you are doing shadow which is hardly badminton.  In an ideal world, you want practice partners of different styles and heights, and levels.
You don't want similarities across the group so that you get used to how to play them.  Ideally, you would have a big mix, and if not have that then you bring in different styles.  I think sometimes we get too used to playing the same type of player (and conditions) which then is limiting our ability to adapt in competition and learning to play in different ways.
However, this is not always possible, for that are outside of the high performance and National centers. in individual coaching or small groups, the coach should look to play in different styles, and create conditions and rules which encourage adaptability in playing styles.
In terms of a mindset point of view/attitude towards training, you need partners whose focus is on learning over ego growing (growth vs fixed mindset).  This means both sides are putting the best interest of their development at hand.  Opportunities for feedback between all the partners will be better and essential if the group as a whole is to improve.
You also want players who understand that helping each other is important for multiple reasons.  There will always be 'weaker players in a group, no one is 'top dog' forever.  How group players work with these players is important
Firstly, recognising that you were once the weaker player and still are in some competition environments. This is not only a badminton thing but a person thing we want to help develop.
Secondly, in order to have better hitting for yourself, you need other players to develop, stronger 'weaker players equates to better and more varied practice.
Thirdly, it is also important to be able to learn to play against weaker players, which isn't always as easy as it sounds 🙂
---
Thanks to everyone for their time and considered thoughts  
If you'd like to join this expert team and start sharing your knowledge, send me a message and I'll send you some questions
 
Don't forget to click here to see a list of all the questions