The key moments that changed your career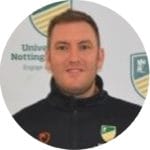 Martyn Lewis
This is something that could go on forever if one really thought about it - there have been so many
Big moments for me - one coach told me 'smashing comes from the core!  Jumping comes from skipping!' very basic but so true in many ways.
Another major point was in a club night when I was 15 – I beat the no.1 in the country in a game of singles – this was the biggest confidence boost for me as a young player and had a part in leading on to what I did as a pro player.
I would say another of the main steps forward for me was when S&C was introduced to my programme.  It was said that you weren't allowed in the gym until you were 16 when I was young and I'm glad that myth has been eradicated these days.  The earlier the better as long as it's a managed programme to help strength development and injury prevention!
I'm going to leave it there as this could go on and on.
---
Jo Davies
The Asian way of training really suited me
One key moment for me in my career was the appointment of Park Joo Bong as National Coach, he totally changed my mindset of how I viewed myself as a professional player, he made the set up so much more disciplined, professional and enjoyable and he made you feel that you were all working together towards a common goal.
I became a much more complete player and realised how the off court environment and behaviours could influence the on court, it was the first time I had someone I truly respected and looked up to.
My badminton went up another level due to this and the Asian way of training that really suited me.
---
Tracy Hallam
Being acknowledged by some of the best players - that was a strange but great feeling
When I was in the U18 age group I wanted to ensure that I had an opportunity to go to the World Junior Championships so through the summer prior to me moving into my last U18 year I worked harder than I had done physically before, running, footwork.  If I am not mistaken, I was undefeated in singles at U18 in England that year.  As WJC was in November I had to get results in early so was fully aware of that timeline.
In 2000 I began to work harder alongside Tom John at the National Centre in Milton Keynes.  Doing an extra session per day to increase my speed on the court.  This was either a short multi-feed session before breakfast or running sprints on the treadmill.  During this season I achieved some EBU wins which was motivating.
Then when a new Ladies Singles Coach was appointed in the National Centre I worked really hard physical through the summer she first arrived and started to achieve more on a European and World level which was really cool.
This hard work was over a number of years, and this got me World Champs 1/4 finalists on a number of occasions also Singles Titles in Asia and top 10 world ranking and a Commonwealth Gold Medal.
Once getting acknowledged by some of the best players in the world know that they considered you as a competitor was a strange but great feeling.
---
Ben Caldwell
The people I've met and places I've been
Studying Sport at Bath University and applying scientific knowledge to coaching completely changed my way of coaching, it opened up a far more holistic approach to optimising performance rather than the basic technical and tactical knowledge from basic sport specific coach education courses.  It made me a lot more self-reflective and question the way I coached. Plus I met Pete Bush
As a coach, it really changed my perspective when I moved away from England to work abroad and saw completely different styles of training. The emphasis on performance factors and the methodology is different from country to country as a whole and individually from coach to coach. For example: Working with Danish coaches enlightened me about just how important talking about the game is. Working with a number of Asian coaches changed my view on physical conditioning.
Working with guys like Andy Stewart raised my understanding of the more subtle dimensions of coaching such as communication, backward chaining, the value of discussion, giving more than you take, challenging the way you think, and continuous learning.
Upgrading my knowledge of physical training by taking further education courses has made the physical side of the game more and more clear even though there are very limited resources about optimal physical training for badminton when compared with other sports.  Applying knowledge from strength and conditioning. Using examples from other sports with similar physical demands and movement patterns has changed the way I coach.
Key people and the aspects they made me think about, thanks to all
---
Toby Penty
Moving from training at my home club to training at the national centre was a massive eye-opener for me
It was not the environment that was eye-opening but it was the older singles players I was training with (Raj Ouspeh, Carl Baxter, Kieran Merrilees) and coach (Kenneth Jonassen) that showed me the difference in intensity of training, quality of play between junior and top level senior badminton.
On top of that; that there is a difference between just training hard and training hard with high concertation and intensity.
---
Richard Vaughan
There are too many to name, I am not sure I could quite capture them all without writing a huge list, plus I've probably forgotten some
I'm not sure if you are ever prepared for the 'key moments', often it's only by reflection that you realise the importance of them.  My advice is to seek new challenges, set new targets, engage with the best people, trust yourself to adapt.
In my case some of the higher-level benchmarks included:
regular quality physical court training from the age of 13
a professional physical programme from the age of 15
Sport psychology from the age of 15.  One of the best things to happen which enabled me to develop a badminton brain.
world-class coaching and programme improvements from the age of 15
I have experience from both sides of the coin as a player and as a coach, and I have found this dual experience invaluable.  Being involved from the 'inside' I've experienced may things firsthand.  The positive benefits of certain training or programmes, or poor coaching programmes that failed to deliver.  All these experiences/reflections have helped me to develop a deeper understanding of what is required to produce an effective system.
---
Jordan Hart
Looking back at my career there have been some key moments, some positive some negative
The first one which may seem insignificant for some.  When I was 11, I was invited to my first set of national squad training. After 4/5 sessions a team for the U13 Celtic Challenge was chosen.  I sat at the end of the session waiting for the names to be read out and my name wasn't announced.  Which I felt it should have been.
It was the first time that I'd really faced rejection in a sporting context and I remember so clearly getting in the car with my parents and having the discussion that we were going to go home and work hard until nationals and come back and prove to the coaches I should have been chosen and beat everyone in that team.  A few months later I came back and that's exactly what I did. After that rejection, I quit all other sports teams and clubs and set my sights on becoming the best in the country.
When I was 17 I had a long lingering injury that eventually needed surgery.  At the time you don't really know how significant these things are. I lost a lot of time in key years of my career which I feel that I am now catching up on.
At that time though I don't think I had a coach that really knew how to help me progress to the next level of badminton.  The years to follow I played badminton but didn't really reach anywhere near my potential.  I didn't know how to progress and was just existing in the badminton world not really making marks like I did as a junior.
When Steve Butler came to Loughborough University where I was studying to take over the singles programme my badminton career changed. I had a coach with the knowledge to help me progress. Working with him gave me the confidence to decide to become a full-time player after finishing my study. If he hadn't taken hold of my career when he did, there is no way I would still be playing badminton today.
---
Process before results
The key moment that changed my career was when I started to learn to focus on the process rather than the result.  Seems easy, but it's not! 🙂
If you're interested in finding out more, listen to this!
In this episode, I talk with my good friend Henry about the mental side of badminton and how to get out of your head, when you get sucked into the trap of overthinking.  This content is supremely important to me and I believe that it can have a huge effect on your performance.
---
Daphne Ng
Fear is the enemy of success
The followings are fears I encountered during my playing days.  Only when I faced and thought about my reactions to them did I really start to enjoy my badminton.
I have fear of losing, fear of being evaluated by others as a failure in sports, fear of embarrassment, fear of not lifting up to others' expectations.
Later on, I played better when I learn to enjoy the game. I enjoy the process of executing good shots, winning a rally, tricking my opponents and focusing on playing a good game. This changed my career as a player.
---
Thanks to everyone for their time and considered thoughts  
If you'd like to join this expert team and start sharing your knowledge, send me a message and I'll send you some questions
 
Don't forget to click here to see a list of all the questions