How often do you achieve your maximum on court?
Richard Vaughan
Mmmmm good question, on average maybe 1 in 10 sessions 
Why?
I was in a high training volume and was too tired to peak
I was in a period where I was focused on physical training
I was in a period where I was working on 'developing kill' areas
The good thing was that the maximum came at the right time in general, eg my training was managed to peak nearer an event so typically the maximum would be in the days before or between events etc.
---
There were some matches where I played my best, but it hasn't been many
Also, it's difficult to judge that because obviously Badminton is a game of mistakes and you always do some in a match.  So you also always have the feeling, that you could've done better.  Even if it's only one tiny thing.
The important part is to not get frustrated about not hitting the perfect shot every time but to make the best out of what you are capable of on that particular day.  If you win in the end, it doesn't matter if you didn't play your absolute best.
---
Jurgen Van Leeuwen
It's hard to determine, so shift your mindset
There isn't a 147 or a nine darter in badminton so I have always found it very hard to determine whether I was at my best in a match or not?
Was my opponent at his best?  Did that impact on my 'best' ?
Having worked with several players who strive to perfection it has been a challenge to shift their focus to other ways to get closer to a different perfection:
focus on getting a certain tactic to a tee! Nail the right tactics can be exceptionally satisfying and it shifts focus from hitting the best possible shots to hitting the right shot at the right time. A completely different mindset!
where you can be at your best and be in control .... warm-up, racket grips, shoes etc.  Again shifting the focus on the controllable.
you can control your training efforts and it's likely 90% of your court time.  Here is where you can focus to raise your abilities.
I don't believe in being at your best in the moment.   I think when players reflect on their best matches they probably can pinpoint to results but were they truly at their best, I am not convinced.
---
Tracey Hallam
I planned to 'peak' at the right time
Each time I stepped onto court most players are aiming to give there best with what they have on the day.
But in terms of achieving my maximum this was always planned to achieve it in a major event such as World Champs, Olympics, European Champs Commonwealth Games so literally once or twice a year.
---
If you define 'maximum' as perfect badminton - then never!
There are definitely performances that I'm very happy with and played very well.  But I don't think there's ever been a 100% perfect match!
There are ups and downs even in a match that you play extremely well in
There are always things to improve on
Your shot quality can still be better
Your tactical thinking can always be better
You can always be better
---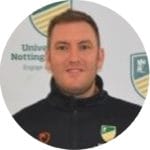 Martyn Lewis
This is interesting, I'd say it's very rarely you reach your maximum on court
It will depend on what you think is maximum and whether you are talking mentally, tactically or physically!!
Also, what you think or coach thinks could be different too and this should be discussed.  It will be different for different practices.
Perfection is pretty much impossible to achieve.
Strive to be the best you can be and improve from the last time you played to the next.  This will ensure you are pushing to become better, might not always be the case but you are trying.
---
About 10% of the time
We would say we play our best badminton around 10% of the time, if that!!
This is why it's so important to be able to recognise and acknowledge this and not get frustrated by it.  If you know you're not going to be playing your best badminton all of the time, then your opponents won't be either!
Your performance may also vary during the duration of a match, so you need to be able to understand this and still try and find a way to win.
---
Daphne Ng
Know you goal before aiming for the maximum
Firstly, as an athlete, it is important to know yourself, your abilities and your capabilities.  It is also important to define " maximum" on the court.
It depends on what is the goal of the training and what is the action plan towards the goal.  To achieve "maximum" on the court, the mind, heart and soul has to be set right.
To achieve real progress and meaningful results, it always requires a little more in the final push in everything you do.
---
This is dependant on what the definition of 'maximum' is within this context
It is obviously easier to get to my maximum if I am for example doing a multi feed session with little rest or an intense bike for a long period of time.
The factors that occur in competition play are difficult to replicate in a training session due to nerves, stress, anxiety that occur in competition play.  An example, in football it's easier to practice penalties in training sessions than perform a penalty in-front of a huge crowd when a title may be on the line.
So in terms of performance, I think it's hard to replicate maximum in training as you don't have prize money, WR points, sponsorship on the line.
But I can honestly say I turn up to every training wanting to give my maximum in whatever form of training we are doing.
---
Peter Briggs
I'd rather set goals than always strive for maximum
I attempt to achieve my maximum in every session - however, I know this is not possible so I always set myself a goal of getting the best out of myself in that session.
Whether its working on my mental, setting up some tricky drills to test me or just trying to enjoy a session when I know my body isn't in its best condition. Being a perfectionist in training is a strong habit to have, but accepting the realism around this is key.
No-one achieves perfection daily.
Yes be tough on yourself when you feel like you're not achieving your goals, but assess the situation fairly, do you have valid reasons (not excuses) for failing today?
---
Thanks to everyone for their time and considered thoughts
If you'd like to read more about how to work towards achieving your best on court and being mentally tough, then click this image and see if you agree with me 🙂  
If you'd like to join this expert team and start sharing your knowledge, send me a message and I'll send you some questions
---
Thanks to everyone for their time and considered thoughts  
If you'd like to join this expert team and start sharing your knowledge, send me a message and I'll send you some questions
 
Don't forget to click here to see a list of all the questions