Advice for delivering a great doubles low service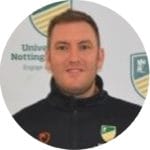 Martyn Lewis
Your low serves should be consistently good!!
It's the only time you are in full control of the shuttle.
Your doubles low service should be consistently good!!   Its a mindset and you need to develop then believe it
Soft grip (hardly hold the racket then slightly tighten grip until comfortable)
Racket face flat to the net
Turn the shuttle flat – so the shuttle comes out flat after you hit it.
Extra Tip : would be to use a sharp racket head action through the hitting part of the stroke (doesn't matter how big your swing is after the hit but make sure it's fairly short before the hit)
---
Ben Caldwell
Have a routine 
Believe in your serve. Be confident that it will be a good serve
Hold the shuttle stable
Look at your opponents' position before you serve and be ready to change the service if they move early.
---
Listen & watch for these points in these great videos all about delivering a great doubles low service
Preparation: the racket position, how to hold the shuttle, where to stand
Hitting Action: hitting out of your hand, where to strike the strings
Serving Variations: 7 different serving targets explained
Serving Tactics: 3 different set plays explained & demonstrated
Spin serve
In this video, Greg is joined by Marvin Seidel the German Mens Doubles player.  They discuss all the tips and tricks required to deliver an awesome spin serve.  It's fact full of information that you can try out on court.
---
The key is to put yourself in situations where there's some pressure for you to serve with quality
Keep your swing short and simple.  If it is too big or involves too much movement, it is more difficult to re-produce which results in inconsistency
Practice with variation.  There are so many different variations of a low doubles service. So make sure you're confident with a wide range of them
Practice with pressure.  It's often easy to serve when there's no pressure. Put yourself in situations where there's some pressure for you to serve with quality.  For example, if you don't serve the next 5 serves with high quality, you have to do 5 suicide sprints as punishment or buy your doubles partner a drink
---
Daphne Ng
My Tips
Be calm and relax
Focus on where you want to serve
Use thumb control to perform a good backhand serve
---
Richard Vaughan
My technical points
Backhand grip and hold the racquet up the shaft at the top of the handle
Find a comfortable balanced serving position
Push through the shuttle to keep the trajectory flat and tight to the net
---
Jordan Hart
The more you complicate things, the harder they become
I'm a singles player but I do serve with a backhand low serve 80% of the time. I know some people really struggle with serving. Even some of the best players in the world.
For me, I just keep it super simple.
Breathe
Pick a spot
Strike it
I know this probably sounds ridiculously simple but I personally think the more you complicate things, the harder they become.
---
Tracy Hallam
I was a singles player 🙂
Probably not the best person you should be asking as a former singles player lol!
But all I try and do is reach out, push through the shuttle, and imagine it going close to the net.
Back when I was a junior the best advice I had from a coach around serving was to imagine the person you are serving to has super nobly knees which should bring around some funny thoughts and you can relax when you serve.
---
Thanks to everyone for their time and considered thoughts  
If you'd like to join this expert team and start sharing your knowledge, send me a message and I'll send you some questions
 
Don't forget to click here to see a list of all the questions