When I'm 16-18 down in the 3rd end
Ben Caldwell
Keep telling yourself that you will win
---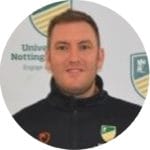 Martyn Lewis
It's time to think with a clear mind
Concentrate on relaxing and thinking positively and clearly.  Do you need to change a tactic or do you stick to a tactic because you aren't too far behind?
Point by point is key – don't think of the end line!!
---
Focus on the process rather than on the result and calm your inner voice
When I'm 16-18 down in the 3rd, I remind myself where I am and bring myself back to the moment.
It's not easy but it does definitely help to focus on the process rather than on the results. Focussing on results takes you away from your body and into your head, where you have negative brain chatter:
•  "what if I lose this"
•  "why am I so nervous?"
•  "How will I explain my loss to myself and others?"
As Tony Robbins says, when you're in your head - you're dead.
For more information about overthinking in matches, I highly recommend that you listen to Episode 32. Stop overthinking in matches 
---
Jurgen Van Leeuwen
I take a break and regroup and think about the strengths in my game
Don't panic and make sure you make your opponent have to win their points by not giving away any unforced errors
---
Daphne Ng
I tell myself these things :
"I must remain as calm as I can"
"Be positive and think of how to win the rally"
"I have a game plan for 1 point at a time."
---
Richard Vaughan
My thoughts really go back to basics
•  focus on your physical strengths and gain confidence that the longer the match goes on the better for you
•  focus on any key tactical points (hopefully you've been assessing these over the game so far)
•  focus on getting ready to start the point, treating each rally as match point (build-up but control your emotions)
---
Tracy Hallam
It is important not to stress out
Think clearly as to what you need to do and do your best to carry it out.
It could be entirely possible that your opponent is stressing out because they have the lead.
---
This is extremely difficult to answer
The build up to this score line can influence the feeling at this point.
Sometimes 16-18 down could be a positive or negative. If the build up to this score line has been I am a long way down and I'm suddenly coming back at my opponent then I believe in a match at this stage that the pressure is on my opponent and I at this stage will probably feel somewhat relaxed and have belief in myself as the momentum flow is with me.
If the build up to this score line has been a constant gap of 2/3/4 points and can't really get hold of a lead then I would be thinking - What can I do now that have I haven't done before to try and take the lead.
Sometimes I think at these stages of matches players are too busy focusing on how they feel and don't take into consideration how their opponent feels. Looking at it from this point of view sometimes can elevate pressure on myself thus helping my performance.
---
Thanks to everyone for their time and considered thoughts
If you'd like to read more about how to work with your coach then click this image and see if you agree with me 🙂  
If you'd like to join this expert team and start sharing your knowledge, send me a message and I'll send you some questions
---
Thanks to everyone for their time and considered thoughts  
If you'd like to join this expert team and start sharing your knowledge, send me a message and I'll send you some questions
 
Don't forget to click here to see a list of all the questions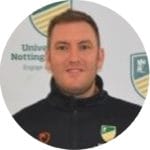 Martyn Lewis
Tracy Hallam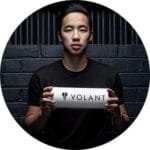 Jeff Tho
Jurgen Van Leeuwen
Ben Caldwell
Daphne Ng
Jordan Hart
Richard Vaughan