What important contributions do you think parents can make?
Parents are a players biggest influence
Especially at a young age as they are the driving force that enables players to turn up to training, play tournaments and without their support it is so difficult to succeed.
I am lucky enough that my parents have done everything in their power to make me the best badminton player I can be. I have seen in other instances parents have negative effects on players which have lead to them not reaching potential. Whether this be not showing interest or actually showing too much interest and smothering a player.
Coaches/NGB's/Players have to work alongside parents to enable a player to reach their potential as I believe they contribute the most to a players make up.
---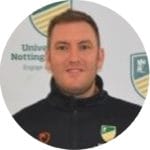 Martyn Lewis
I think parents are key to learning of many players… not all though
Parents are the biggest role model to a lot of children and asking a player what they learned throughout each session is key to helping the players understand if they have learnt anything.
---
Parents make a massive contribution
As we grow up, we tend to mimic the ones that we love and that we are in close proximity to.
For me personally, my parents play a huge part in my life and their approval probably means more to me than it should.
Having someone support you no matter what is so important. For me, it was my parents. For you, it might not be.
---
Jurgen Van Leeuwen
Jo Davies
Two Hats: A guide for those coaching or thinking of coaching their own children by Gordon Maclelland (Author)
Jo and Jugen have contributed to the parent's chapter in the book
Parents are often asked to step up into the role of coach; it's a big step from watching on the side-lines to being responsible for the wellbeing of not only your child but also the rest of the team.
This book features advice from some of the world's leading sporting figures; including Harry Redknapp, Michael Vaughan, Liz McColgan, Stuart Lancaster and David Leadbetter.  It is a great resource for anyone who may be considering coaching.   It looks at at mindset, psychology and family challenges - ensuring that home life doesn't suffer when becoming a coach.
There are plenty of tips on how to include other parents, keeping your head under pressure and gives amazing insights from professionals on the parts they enjoyed the most, and crucially, the things they'd do differently.
- - - - - - - -
Badmintonandy also recommends this book

Conversations For The Journey: 40 ways for you to build sporting character by Richard Shorter (Author)
Andy here 🙂   I recommend that you get a copy of this book, I have
It is a great conversation companion for journey to and from training and competition.  There are 40 creative ways of dialling down the stress and priming your child for success on and off the sports field.  It will guide you into positive conversations to strengthen your relationships and nurture the character you want to see your son or daughter develop.  On the journey to and from the sports fixtures, over the phone or on Skype, these conversations starters will enable you and your child to stay focused on what really matters for their future.
'Conversations for the journey' don't have to be difficult- are you ready for the challenge
---
Daphne Ng
They support no matter what
It's important for sports parents to be supportive, encouraging and be proud of their child regardless of any level of achievement.
---
Richard Vaughan
Supportive parents are essential
I believe that the biggest contribution they can make it to ensure sport is in the perspective of life and that their young child/player is supported.
Support is multi-faceted so be aware of considering all the different types of support and guidance that come with being a sports parent.
---
Tracy Hallam
Support in different ways
Obviously, at a young age the parents contribute financially and logistically which is important to allow opportunities.
They provide support throughout the career of the player.
I think it is important that the parents make it clear that they are there to help if the player needs even if the parents are not players themselves.
---
Ben Caldwell
Parents are more important than the coach
They develop the mindset, they support emotionally, they transport, they define what nutrition the player gets
...... the list goes on and on
---
Thanks to everyone for their time and considered thoughts  
If you'd like to join this expert team and start sharing your knowledge, send me a message and I'll send you some questions
 
Don't forget to click here to see a list of all the questions